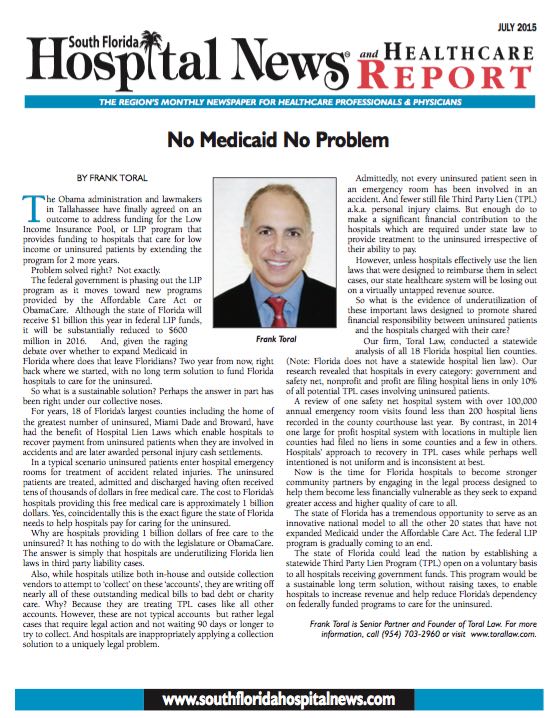 The Obama administration and lawmakers in Tallahassee have finally agreed on an outcome to address funding for the Low Income Insurance Pool, or LIP program that provides funding to hospitals that care for low income or uninsured patients by extending the program for 2 more years.
Problem solved right? Not exactly.
The federal government is phasing out the LIPprogram as it moves toward new programs provided by the Affordable Care Act or ObamaCare. Although the state of Florida will receive $1 billion this year in federal LIP funds, it will be substantially reduced to $600 million in 2016. And, given the raging debate over whether to expand Medicaid in Florida where does that leave Floridians? Two years from now, right back where we started, with no long term solution to fund Florida hospitals to care for the uninsured.
So what is a sustainable solution? Perhaps the answer in part has been right under our collective noses.
For years, 18 of Florida's largest counties including the home of the greatest number of uninsured, Miami Dade and Broward, have had the benefit of Hospital Lien Laws which enable hospitals to recover payment from uninsured patients when they are involved in accidents and are later awarded personal injury cash settlements.
In a typical scenario uninsured patients enter hospital emergency rooms for treatment of accident related injuries. The uninsured patients are treated, admitted and discharged having often received tens of thousands of dollars in free medical care. The cost to Florida's hospitals providing this free medical care is approximately 1 billion dollars. Yes, coincidentally this is the exact figure the state of Florida needs to help hospitals pay for caring for the uninsured.
Why are hospitals providing 1 billion dollars of free care to the uninsured? It has nothing to do with the legislature or ObamaCare. The answer is simply that hospitals are underutilizing Florida lien laws in third party liability cases.
Also, while hospitals utilize both in-house and outside collection vendors to attempt to 'collect' on these 'accounts', they are writing off nearly all of these outstanding medical bills to bad debt or charity care. Why? Because they are treating TPL cases like all other accounts. However, these are not typical accounts but rather legal cases that require legal action and not waiting 90 days or longer to try to collect. And hospitals are inappropriately applying a collection solution to a uniquely legal problem.
Admittedly, not every uninsured patient seen in an emergency room has been involved in an accident. And fewer still file Third Party Lien (TPL) a.k.a. personal injury claims. But enough do to make a significant financial contribution to the hospitals which are required under state law to provide treatment to the uninsured irrespective of their ability to pay.
However, unless hospitals effectively use the lien laws that were designed to reimburse them in select cases, our state healthcare system will be losing out on a virtually untapped revenue source.
So what is the evidence of underutilization of these important laws designed to promote shared financial responsibility between uninsured patients and the hospitals charged with their care?
Our firm, Toral Law, conducted a statewide analysis of all 18 Florida hospital lien counties. (Note: Florida does not have a statewide hospital lien law). Our research revealed that hospitals in every category: government and safety net, nonprofit and profit are filing hospital liens in only 10% of all potential TPL cases involving uninsured patients.
A review of one safety net hospital system with over 100,000 annual emergency room visits found less than 200 hospital liens recorded in the county courthouse last year. By contrast, in 2014 one large for profit hospital system with locations in multiple lien counties had filed no liens in some counties and a few in others. Hospitals' approach to recovery in TPL cases while perhaps well intentioned is not uniform and is inconsistent at best.
Now is the time for Florida hospitals to become stronger community partners by engaging in the legal process designed to help them become less financially vulnerable as they seek to expand greater access and higher quality of care to all.
The state of Florida has a tremendous opportunity to serve as an innovative national model to all the other 20 states that have not expanded Medicaid under the Affordable Care Act. The federal LIP program is gradually coming to an end.
The state of Florida could lead the nation by establishing a statewide Third Party Lien Program (TPL) open on a voluntary basis to all hospitals receiving government funds. This program would be a sustainable long term solution, without raising taxes, to enable hospitals to increase revenue and help reduce Florida's dependency on federally funded programs to care for the uninsured.